Manager: Scott Russon (F.A Licensed Coach) | 07816050256 | E-mail Scott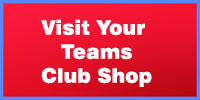 NEW U10 PLAYER WANTED!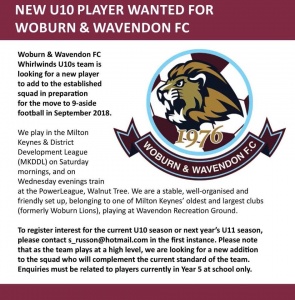 It is rare that new squad places become available, as the majority of the squad has played together since 6 years of age and the team is a stable, competitive and content one (see social stuff near the bottom of the page)…
We are, though, looking for a new player to add to the established squad in preparation for the move to 9-a-side football beginning September 2018.
To register interest either for the current U10 season or next year's U11 season, please contact the team's manager.
Please note that as the team plays at a high level, we are looking for a new addition to the squad who will complement the current standard of the team. Enquiries must related to player currently in Year 5 at school.
It is also a precondition for any new player joining the team that they would be fully committed to attending training on Wednesday evenings.
About the team
Since the team formed in 2014, the coaching approach has focused on long-term player and team development in a fun and supportive environment, rather than a short-sighted, short-term pursuit of victory on match days and a win-at-all costs mentality (please read this blog for more). This means that it is recognized that every player is a child learning to play the game and the same behaviours, motivation and outcomes cannot be expected in comparison to that of an adult footballer.
In order to help the youngsters reach their potential, player's individual experimentation and decision-making must be allowed to happen without fear of failure, as would have happened in the self-organised street football games that are now often a rarity. As a result, players are actively encouraged to take risks and spectators are asked to praise but not instruct the boys, not least because of the risk of receiving counter instructions and the inner conflict that this can cause young players.
Additionally, the coaching ethos has also always focussed on developing the boys to be able to play in multiple playing positions, which can be initially uncomfortable but pays dividends in the long run.
We are lucky that the team has always played at a high level. We have received praise from opposition managers and spectators for our playing style, which is based on possession football (for example, goalkeepers and players are discouraged from playing long ball, as while this may create more goal-scoring opportunities it does next to nothing for players' development).
A high premium is also placed on building relationships with each player, celebrating successes that may or may not be explicitly football-related, adapting the coaching approach to suit the individual players, and nurturing a great team spirit. Please see below for more on the team, including social aspects and tournament attendances.
LATEST INFO FOR PARENTS
Training
Training is Wednesdays, 6.15pm-7.30pm at Wavendon until 13th September.
From 20th September, training will take place at the PowerLeague between 7-8pm.
No training on Wednesday 25 October.
Fixtures
Please review the fixtures page for all currently scheduled matches, including location and kick-off time when available. 
Please note that league fixtures are scheduled every Saturday from 9 September to 18 November (plus 2 December), with the exception of 21 and 28 October.
No game or training will take place on Wednesday 25 October or Saturday 28 October.
---
Social stuff
Trip to trampoline park — October 2017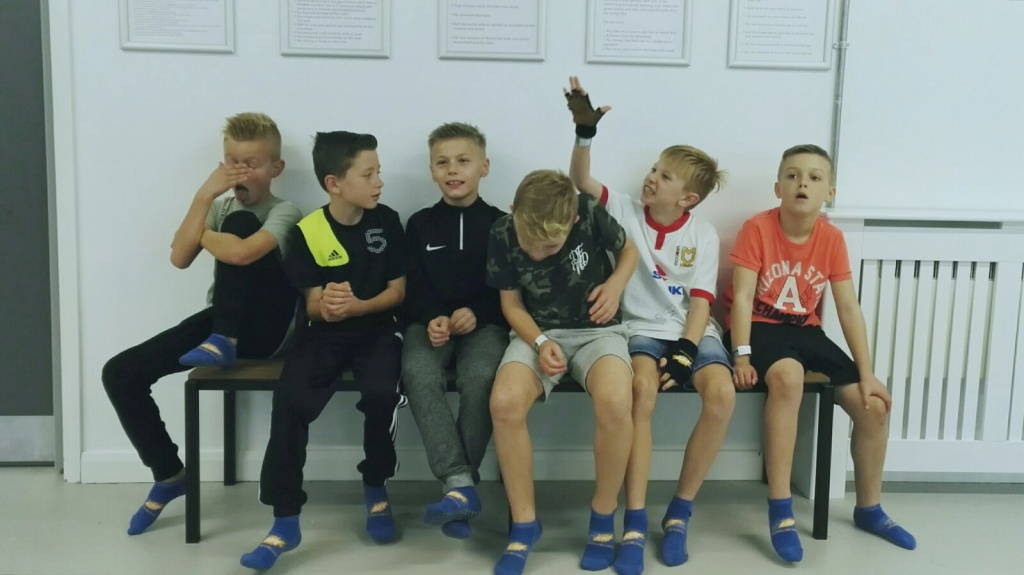 Following a good performance against old friends City Colts Eagles the day before, 8 out of the 9 squad members were able to make a Sunday afternoon trip to Top Jump trampoline park. Also joining the boys were several coffee-drinking parents, 3 slushie-drinking younger sisters, one elder sister and one teething young brother. A great day had by all.
Sky Sports player profile poses — Sept 2017
 
Any photo update for the main team photo always results in a request from the boys to have a now obligatory silly ones.
On the first day of the U10 season, the goofiness was inspired by Sky Sports Premier League player profiles, which seem to have taken inspiration from ITV's 90s Saturday night show Gladiators. Awooga!
Team presentation day — July 2017
After a long, hot day at the Willen World Cup the day before, the majority of the squad, their older and younger siblings, plus long-suffering parents reconvened for a picnic event that had a great family feel.
It seems a long, long time ago since playing 5-aside football last year. We've built on the foundations of the U7 and U8 seasons, with the development ethos of the team resulting in the first season of the 7-aside format being particularly strong. The fact that we reached a final of a tournament having played 9 group games in which every player played a game in goal (conceding 1 goal in total) and every player scored is clear evidence the we are giving the boys a well-rounded experience that is paying dividends. The fact that we also won the Respect Award speaks volumes.
Voting was close in this year's end-of-season awards (every player gathered votes), something underpinned by there being a dead heat for the Parents' Player award (Will and Leonardo). Sam gained the Most Improved Player trophy (also voted for by parents) and Reuben took the Players' Player award (voted for by the boys).
A great season, a brilliant bunch of parents and fantastic gang of boys. Onwards to the U10 season, with one bleary eye already on this time next year and the step up to U11 football and a 9-aside format (gulp!).
Bowling and pizza — March 2017
With no league game scheduled we decided to treat the boys to a trip to the bowling alley and then for pizza. The squad had a great time and were impressively well-behaved (not that they aren't usually, ahem).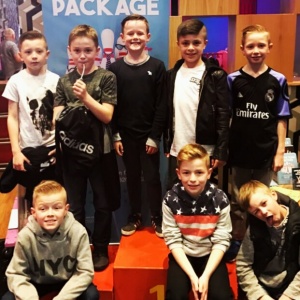 Frozen pitches across MK — January 2017
Frozen: not only the favourite film of many of the the squad  😉  but also the state of play of pitches across MK. So it was a trip to the PowerLeague for a training session instead, and the appearance of a new trialist. We won't be signing Flat Stanley, though, as his play was a bit two dimensional. And a bonus point if you can find the 7 squad members in the photo below…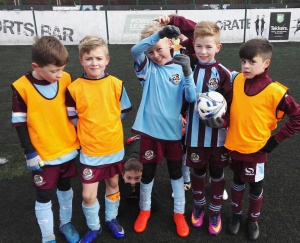 Flitwick Eagles preseason tournament — September 2016
The team attended Flitwick Eagles football centre to play some classy football on a surface that was smoother than some of the squad's haircuts. With a brand new kit, a new team sponsor (thank you, John Lewis), one new addition to the squad, one player carrying an injury, one player on holiday, and no subs, the talented team of youngsters won Saturday's tournament winning all six games, scoring 23 and conceding no goals — and the boys even squeezed in some Pokémon Go in between matches. Some great football was, as ever, underpinned by the team spirit that always provides the turbo-charge to their performance.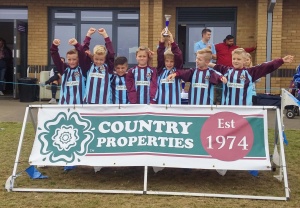 First training session of the U9 season — August 2016
A light training session to bring the boys back together for the first time and lots of fun and camaraderie on show from the off (I've always been impressed and proud of their team spirit considering the vast majority only see each other twice a week). To set the tone for the season we began with an exercise to look at 'what it means to be a good team', with the results below. Some big words, phrases and concepts from such smart little men.
Start of the U9 season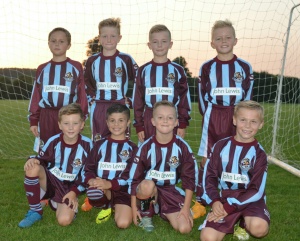 Shefford summer tournament 2016
Our final tournament of the U8 season saw a strong finish and the increased emphasis on playing good football paid dividends. During the best weather of the year so far, the end of season awards were presented, with Leonardo retaining the Parents' Player award, Reuben taking Players' Player, and Sam building on his runner-up award last season to take Most Improved Player. There were also special mentions for two of the original squad who will be playing for new teams next season, with Kyan joining the new U8 Whirlwinds and Little Tom moving to a new club. We wish them both all the best.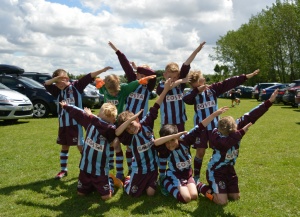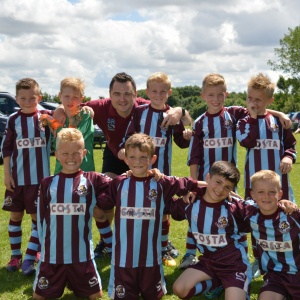 Woburn & Wavendon FC summer tournament 2016
The weather held for a dry and decent 6-aside tournament. Our first competitive tournament experience.
City Colts summer tournament 2016
A decent day. Well done to the boys and also for how they managed the coordination of the subs switching over; reminded me of the Red Arrows.
Christmas party — December 2015 
A trip to MK Spy Centre saw the Whirlwinds U8s pitched against each other as the self-billed team Rudolph and team Coders, with the red-nosers victorious. Laser avoidance, code-cracking, sausage, chips and beans, plus a barrage of the players' best and frankly worst jokes rounded off the trip. Thanks to Social Secretary Nicola for organising this year's bash.
Start of the U8 season — September 2015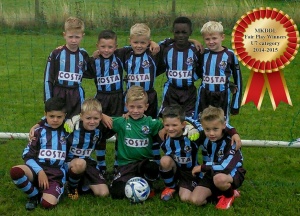 Team presentation day — July 2015
A picnic in glorious sunshine at Willen Lake marked the end of a jam-packed, fun-packed inaugural season, which saw the boys play 20 standard games and too many training sessions to count.
Awards were presented to Leonardo (Parents' Player), Tom (Players' Player), Callum (Most Improved Player) and Sam (Most Improved Player Runner-Up). A special award went to mum Emma T for her dedication to the 'calling time on the end of the midweek training session… every… single… week'. There was also a special mention for the dogged and driven Isaac, who moves across to our sister side the Hurricanes for the forthcoming U8s season.
The day was a great way to celebrate the team's achievements, and also meant that, where available, siblings were able to join in the fun, which included something that resembled cricket and a game of rounders with mixed teams of parents and kids.
---
Woburn & Wavendon FC summer tournament — July 2015
Our first Club tournament and what a brilliant day — spectacularly well organised and massive fun. High praise for Club Chairman Ian Doggett who works tirelessly throughout the year and then gives his all to lay on a fantastic weekend of football for 4,000 young players and their spectators. (Not to mention organising the Lionesses tournament the weekend before!) If you would like to drop Ian an email with any feedback, comments or thanks, you can email him on: iand@voxamplification.co.uk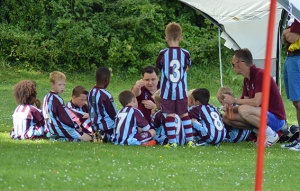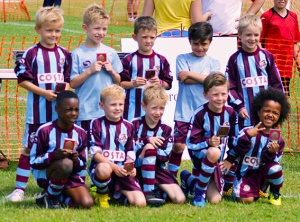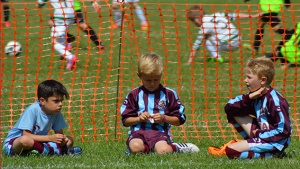 Photos courtesy of Mark
---
Family Fun Day at MK Dons — March 2015
Some of the boys were able to attend a team day out as the MK Dons beat Notts County 4-1. The afternoon also included sweets, hot chocolate, rock choir, sweets, a mascot race and sweets. Plus the prerequisite "I need the toilet" trip, which meant missing one of the goals…
---
A very friendly 'friendly' – mixed friendly with City Colts — February 2015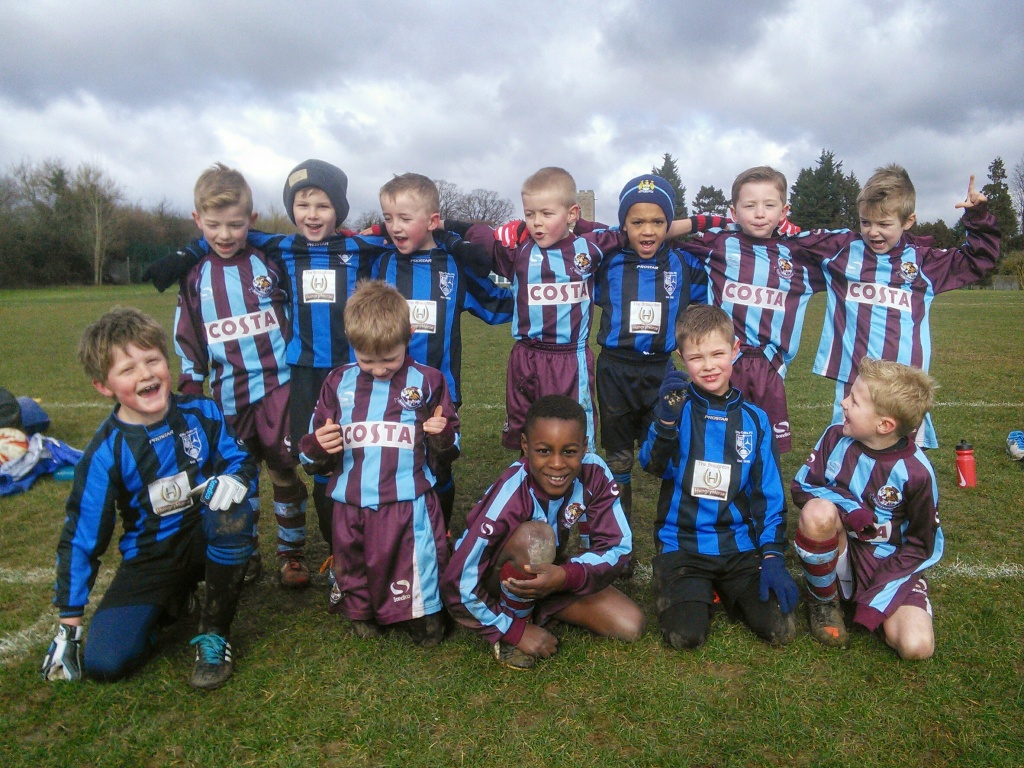 The Whirlwinds mixed it up with Middleton's City Colts Eagles. For more, see the Club news story here 
---
Christmas party 2014
Bowling and Pizza Express — thanks to Nicola and Emma L for organising such a great day…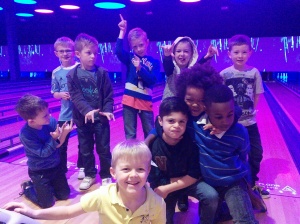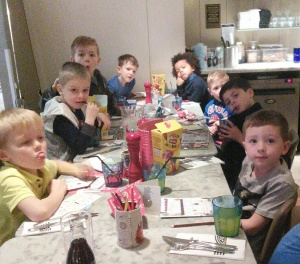 U7 season — November 2014

---
Luton Tournament — 29th October 2014
---
Start of the U7 season — September 2014