Lionesses
4
2
Leighton Utd Vixens
13 Sept 2014 at 11.30am
Aspley Guise Common MK17 8DX
League game
---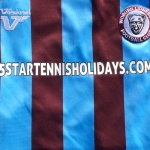 Eventful Day, Finally ends in a first ever Win over Leighton Utd Vixens!!
Squad: Charlie, Jemma, Chloe R, Grace, Rosie, Zoe, Carrie, Emily, Laura, Lauren, Michaela, Maddison, Mille, Molly, Alice, Chloe A.
Lionesses goals from: Rosie: 1, Laura: 1, Molly: 1, Alice: 1
POM – Zoe
Attendance – 35
It was obvious from the off, that Woburn meant business and were determined to get over the fact that they have never beaten Leighton Vixens before. Only 2 mins had passed when Jemma's through ball almost set up Maddison. Molly's effort a min later was cleared off the line. Emily was proving Woburn have plenty of wide play going forward and her good work and Rosie's determination, on 15 mins, saw Rosie force the ball over the line to make it 1 nil. Unfortunately some indecision in defence after 17 mins, saw Charlie beaten. 1 – 1. It looked like the first half would end level, but Laura hit a great shot from 25 yards, over the keeper. 2-1.
Early in the second half, a very good solo run saw Leighton equalise. 2-2. The game slowed down, changes were made in midfield and Woburn pushed forwards. A corner taken by Carrie, went just over the bar! A few mins later Molly scored straight from another corner. 3-2 to Woburn. Deep into injury time Alice headed home her first goal for the Lionesses! 4-2. Great start to the season.
Pat & Steve