Lionesses
5
2
Garston Ladies
7 Sept 2014 at 230pm
Sandy Ladies FC
Friendly tournament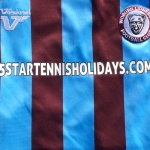 Friendly Win Over New Addition To League
Charlie, Grace, Chloe R, Carrie, Molly, Alice, Zoe, Emily, Maddison, Rosie
Lionesses goals from: Molly: 3, Rosie: 1, Maddison: 1
What was scheduled as a tournament between 6 teams, actually went ahead as a friendly match between the Lionesses and Garston Ladies on a lovely sunny Sunday afternoon at Sandy.
A couple of lucky counter acts, saw Garston go 2 nil up. Lionesses fought back well to make the match even by half time. 2 – 2
Half time talk from Coach Pat, reminding the team there was a trophy up for grabs, seemed to spur the girls on! Lionesses preseason fitness training, shone through as Garston began to fade with 15 minutes to go. Great team work, man marking by Carrie and Zoe, and fantastic shots from Rosie, Molly and Maddison, secured a 5 – 2 win.