20 Sept 2014 at 10.30am
Aspley Guise Common MK17 8DX
League game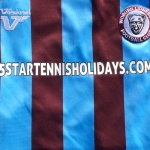 Luton Stunned by Early Pressure!
Squad: Leanne, Grace, Zoe, Millie, Chloe A, Lauren, Carrie, Maddison, Rosie, Georgie, Jemma, Alice, Molly, Laura, Michaela, Emily
Lionesses goals from: Maddison:1, Rosie:2
POM – Millie
Attendance – 46
It was Lionesses early pressure, which stunned the Luton camp, as Maddison tapped in Laura's cross after just one minute. Hustle was the name of the game! 7 minutes later Maddison nearly made it 2, from a similar position, somehow hitting the post. As Luton created their own chances, a solid back 4 of Grace, Zoe, Millie and Chloe, kept them out. On 30 minutes Rosie headed the Lionesses further in front. 2 – 0. A few minutes later Luton came close but were denied by the post and Chloe's out stretched leg. Carrie, Molly and Georgie combined well and it was the Luton keeper who was called upon to make a number of outstanding saves. Right on half time, Rosie headed home a second goal from another pin point Molly corner. An impressive 3 – 0 lead!
The second half saw Alice, Jemma and Lauren involved more to help strengthen the midfield, along with Carrie, Laura and Maddison.  The Lionesses had to hold firm after waves of attacks from Luton, who were never going to give up! Millie's determined defending was a great example of how to see out a game!
Some magnificent man to man (girl to girl) marking was required from Zoe and Michaela, and some very tight marking from all of the midfield kept Luton at bay. The match ended with another early season win for the Woburn girls, but no time to rest, as next up league champions Kempston.
 Pat & Steve