Lionesses
3
2
Northampton u18s
2nd April 2016
Crawley Road
Friendly
Squad :Leanne,Chloe A,Millie,Micky,Grace,Casey,Carrie,Amy,Chloe R,Georgie,Emily.
Here we go again! Northampton u18 visit Crawley Road, Woburn sacred home of the Lions!
What a good end to end game it proved to be.
Chloe R back after a short break scored after 9 minutes, Georgie getting another after 30 mins.
Northampton pulled one back with some slick passing which in the end gave them a tap in to score.
2nd half we played strongly again, but Northampton equalised from a free kick right on corner of area which Amy tried to clear off the line but couldn't manage to keep out.
Best goal of the game was Amy's , with 10 minutes to go she made a great run down the left getting through a couple of tackles and smashing it into the goal.
Northampton tried to the end to get an equaliser coming close a couple of times but Leanne made a number of saves look comfortable and came out to make a great block one of the few times Northampton centre forward got the run on Millie.
Quite a few players could have got POM. Chloe R who looked dangerous attacking down the left having not played for 2 months and having a bad cold, Casey for playing out of position in the middle, Millie and Micky in the middle of defence but Amy deserves it most for playing holding role she's not used to, really sticking to it and then scoring a great winning goal.
POM. AMY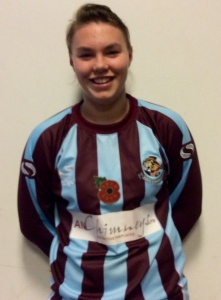 Well done to all 11 players for a great result even though that was not are main concern!!