Scot Spartans
1
3
WW Lions Hurricanes
8th November 2015 at 10.30AM
SCOTTS
League Game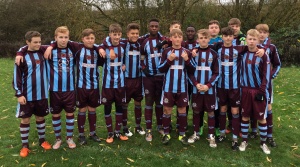 DOMination
Both Scot Spartans and Woburn and Wavendon Lions Hurricanes were coming into this match unbeaten with Scot's top of the league and Lions in second place (with a game in hand).
The feeling was in the air that only one of these sides would leave with that record intact.
Before the game both teams held a minutes silence to pay respect to those who have given their lives for their country.
Both teams seemed nervous in the first five minutes with no one really stamping authority on the game, Scot's clearly had a game plan and were defending well and getting back in numbers.
With his first start of the season Alex Carroll in the midfield was really starting to settle and was chasing the ball down trying to create something for the team. Harry who had started the game in the CAM role was winning every ariel battle and Alex and Panashe were clearing up behind him.
It was on six minutes when Lewis picked up the ball and after an injection of pace played a great pass to find Josh but Josh watched his shot go agonisingly over. The game was very much a midfield battle and Alex was putting in a great shift and stopped a Scots attack with a fantastic sliding tackle.
SUB: 16 Minutes Josh came off and was replaced by Jude who took over left midfield whilst Zac moved to right midfield. Jude had listened to his instructions and started chasing the ball down and joining the attacks in the box.
SUB: 26 minutes and Callum came on for Louis Smith who had a very quiet first half and didn't quite look himself out there.
SUB: 29 minutes and Josh came back on for Zac who was having a frustrating day and shooting from distance.
Callum was working extremely hard and in the 29 minute found himself in some great space and after delivering a great cross the Scots keeper fumbled the ball for Juan to react first and score but only to see his goal DISSALOWED as the ref judged that the keeper had it in both hands.
Woburn was awarded a free kick and Thomas hit a powerful free kick but unfortunately straight at the keeper who managed to tip over, if it had gone either side of the keeper, you felt it would have been a goal.
SUB: 34 minutes and Alex comes off for Joe Abbey. Alex had been brilliant in this half but it was clear that he had picked up a knock and came off for some much needed treatment.
Scots had played very well up to now and were keeping very disciplined and were counter attacking when Panashe was adjudged to bring down the attacker and a penalty was awarded.
PENALTY – 38 minutes into the first half and the Scots striker stepped up and hit the ball hard into the bottom corner to drag Scots back into contention, a great penalty but Cameron guessed right and was very close to saving it.
Scots 1 – 0 Woburn and Wavendon Lions Hurricanes
Scots were now sensing that we were on the ropes and attacked again down the right side but Dom was straight over to clear the danger away.
HALF TIME
The boys came in 1 – 0 down and needed to pick up their game, the grass was long and we had reverted to a long ball game – we needed to speed up our passing and make sure we were first to everything.
The Second Half started and Scots started very brightly, it was clear that they felt another goal was needed but Thomas, Panashe, Lewis, Dom and Joe were now very well organized and after an amazing slide tackle from Dom the ball was back in our control but still no supply to Callum and Juan up top.
SUB: 45 minutes and Ethan Mortimer comes on for Harry, Harry had been outstanding but needed a rest.
Straight away Ethan was involved in a great little team move and after some clever play from Callum and Juan we had won a corner.
GOAL – Juan whips in a great corner and skims Ethan's head as Thomas and Callum pile on the pressure a Scot's player turns it into his own net.
Scotts 1 – 1 Woburn and Wavendon Lions Hurricanes
THOMAS SEES RED – Immediately after the goal the referee has no choice but to send Thomas off for what looked like handbags at dawn.
SUB: Callum makes way for Harry, as he has to come into CB to cover for Thomas, a shame for Callum, as he had been superb today.
Woburn and Wavendon Lions Hurricanes now down to ten men really had to pick up the tempo and burst into life and looked the more threatening in the second half. It was on 54 minutes when Ethan won the ball in midfield and switched the ball to Zac on the right (now on for Josh) who whipped in a ferocious cross, which was put away by Juan.
Scotts 1 – 2 Woburn and Wavendon Lions Hurricanes
The 10 man side were now winning and really battling to keep their lead, Dom was fantastic on the right, winning tackle after tackle and Lewis was extremely lively down the right side but it was Cameron who pulled off two fantastic saves to keep the team in the game.
The game was starting to open up and after some great pressure in midfield from Zac, Joe and Ethan we were peppering the Scots keeper who produced a great save to deny Louis.
On the 74th minute Juan picked up the ball in midfield and played a fantastic through ball cutting the Scots back four in half, Louis raced onto the ball but missed.
A minute later and Ethan hits a great forward pass putting Louis in again but unfortunately blasts it over. You started to feel this wasn't going to be Louis day but on the 77th minute Louis beats the defence and hits a great shot across the keeper and into the bottom corner to make it 3 – 0.
Scotts 1 – 3 Woburn and Wavendon Lions Hurricanes
Joe Abbey who had been fantastic in the second half made a crunching tackle to win the ball and could have hit a 25 yard strike but instead put Zac through on goal with a sublime pass but Zac watched his shot go wide.
The boys continue to press in midfield and the referee blows the final whistle as the away support cheer the win which see's Woburn go joint top of the league and a 100% league record to the season maintained.
Man of the Match: Dom