Toddington Rovers
1
8
Lionesses
11 Oct 2014 at 1030am
Toddington Recreation Ground LU5 6DE
League game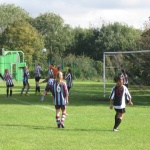 1st away win of the season!
Squad: Emily, Charlie, Jemma, Grace, Chloe A, Michaela, Carrie, Maddison, Millie, Alice, Lauren, Leanne, Chloe R, Rosie
Attendance: 36
Lionesses goals from: Carrie 1, Chloe R 4, Millie 1, Rosie 1, Maddison 1
As ever, a warm welcome from our hosts at Toddington, who have strengthened their squad this year and are no easy team to break down. Woburn started a little too anxious to get a goal, as we forced Toddington's excellent keeper to make some good saves early on. It was on 14 minutes when our first goal was headed home by Carrie, from an accurate cross from Rosie. Chloe R forced another good save 2 minutes later, before taking a further minute to make it 2 – 0. After 25 minutes, good work from Emily and a perfect cross from a wide position, saw Chloe R make it 3 – 0.
The second half saw Lauren unluckily hit the post with a brilliant chipped shot, which deceived the keeper. It was Chloe R who increased the Lionesses lead after 43 minutes – finding time to share a joke with a Toddington defender! On 48 minutes, a move, starting with Chloe A in defence, great passing through midfield and an accurate pass from Carrie to Millie on the edge of the box, saw Millie's first goal of the season – Woburn at their best! A bit of indecision by the Lionesses, allowed Toddington a well deserved consolation goal. 5 – 1. Woburn kept applying the pressure and further goals from Rosie, Chloe R and Maddison made the final score 8 – 1.
Well done to all the girls!
POM: Chloe Ruddock
Pat & Steve