U11 Lionesses Clarets
0
0
Stotfold Junior U11
17th September
Wavendon Gate School
League match
On a slightly chillier morning than most of us have been used to of late, and with a hint of drizzle to ease us gently into the winter season, we had our first league match today against Stotfold F.C..
The girls were impressively on the offensive from the off with play predominantly in the opponent's half.
After a couple of near misses from Kitty, she was soon rewarded for her efforts with a spectacular goal from a free kick awarded to Woburn half way through the first half. This boosted all the girls' confidence and we continued to dominate in mid field. Any forays into our half by Stotfold were swiftly turned around by our strong defensive team of Tayla and the two Rubies. Tayla immediately turned any defence into attack and Ruby H & K made some great counter attacks from the right & left back, all of which must have weakened Stotfold's resolve.
Olivia & Izzy dominated mid field, creating some lovely interplay and passes to Kitty and Jaz. Izzy took the score to 2-0 with a shot rolling between the goalie's legs and Olivia went on to supply a wonderful assist to Kitty who found the back of the net again once in the first half & again in the second.
We went into the second half 3-0 up with Kitty bringing it up to 4 and Charlotte covering in mid field for Izzy and then Olivia. Charlotte got stuck straight in and continued to press, causing Stotfold problems. Jaz came on up front and had a couple of shots on goal which Stotfold's keeper managed to get her hands to.
After a quiet first half for Freya she had to keep her focus and fend off a more offensive Stotfold in the latter part of the second half, with one shot managing to slip through after an attack down the right hand side.
Our girls showed signs of starting to tire after their earlier efforts with the game finishing at 4-1. Fair play to Stotfold who kept their heads high and were rewarded with that well deserved goal.
'Girl of the Match' was given by the opposition to Izzy.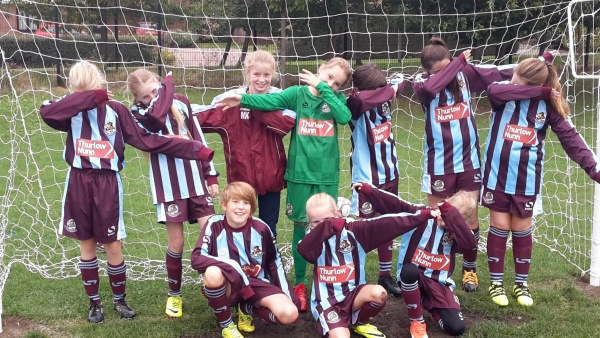 To conclude it was a great performance by our girls in their first game on a bigger pitch, with a smaller pool of players which meant lots of running around and ball time for all. There was some lovely passing between the girls, and great examples of teamwork. Keep it up Clarets !