WWFC LIONS SUPER SIXES
0
0
WWFC Hurricanes
5th July 2015
Woburn Village Playing Fields
Tournament
GOOD PERFORMANCES TO END THE SEASON
With a large squad and only 6-a-side matches, we operated with what was 2 different teams. This worked very well, with well balanced teams delivering good performances. Our first match against Roman Rangers Yellows got off to a good start with an early goal. Yellows equalised to leave it all square. First win came a against Pottersbury. Only 1-0, but could have been more. Our next opponents were Feeder Soccer from Peterborough. A very skillful side, the boys competed well and earned a deserved 1-0 victory. So things were looking good for qualification. Our next match was against Newport Pagnell Town Lions. A strange & disjointed match, broken up by a bang to Callum's head as he kept goal bravely. Sadly we lost by a single goal in a scrappy ill-tempered match.  That meant we needed a win against our old friends from Heelands to guarantee progression. Heelands had looked the strongest team in the group, and conceding an early goal was unfortunate. All credit to the boys, we struck back immediately, and despite chances for both sides, the resulting draw helped neither of us.
It was Newport who progressed, however a very respectable 3rd place against some good teams was a good return.
Weather wise, sun, rain, hot, cold, and even a mini hurricane !   Well done to everyone on a very enjoyable afternoon.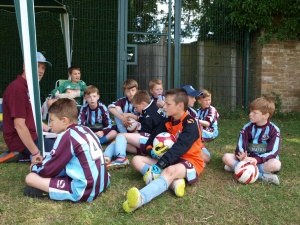 Focused !