WWFC Hurricanes
0
0
WWFC Tornadoes
8th November 2014
Wavendon Recreation Ground. Special fixture to mark Remembrance Weekend. Poppies on shirts and 1 minutes silence before the match.
Remembrance friendly
NOT OUR FINEST HOUR
On a day when we showed our respect for all those lost in conficts near and far, you would have been excused for thinking that the Hurricanes' minds were in a field far far away !  All credit to the Tornadoes who took full advantage and showed all the desire and team work.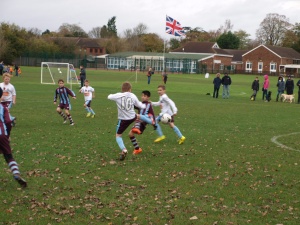 A large squad and much rotation did not help, but it was not until the final quarter that some cohesion finally developed.
Another kick up the proverbial for the Manager too. Pre-match preparation is important, and we could…. should   and will do better.  Congratulations to the Tornadoes….. on this showing they continue to progress and deserved their victory.