U18 Lionesses – Season 2014/15 Archive
Saturday 18 July – FOOTBALL IS BACK IN 8 WEEKS! Season starts on Saturday 12th Sept.2015! Friendlies  already arranged with Wisbech Sat 5th Sept. & Newport Pagnell Thursday night 10th Sept! More to come!!
Thursday 16 July –  Lively start to our training schedule! Well done to the 9 who trained hard tonight! they include Grace, Carrie & Mum, Chloe A, Madison & Family, Molly, Alice, Emily & dad, Jemma, not forgetting Charlie. Fitness will again be the key in the new season. 2 weeks off now to run, jog, swim, walk, dance! Anything to keep fit ready for WEDNESDAY 5th AUGUST when we train again at Crawley road 6.30-8.30pm , see you all then!
Wednesday 15 July – Fitness first! That's what training will be about tonight 6.30pm-8.30pm at the Village Hall Playing Fields, Crawley Road, Woburn MK17 9QD. All players required as this will be the last session until 5th AUGUST. ENJOY THE SHORT BREAK of 2 weeks as it will be full on from the 5th.  U18s season starts 12th Sept!! Only 8 weeks away!!!!!!
Tuesday 14 July – Well done to the girls who put themselves up for the ACC Trials last night and had to encounter 2 hours of hard work! Nice to see Millie,Carrie,Leanne Charlie getting involved. 34 girls in the u16 group from all over the region. Fingers crossed for our girls to do well.
Saturday 11 July – Reminder for players who enrolled on the BEDS FA PDC now called ACC ( ADVANCED COACHING CENTRE ) the trials are Monday 13th July at MK42 6DA 6-8.30pm for u16 & 7.30 – 9.30pm for u18.
Thursday 2 July – SENSATIONAL SEASON !! Presentation Night went well with the u16s getting a special award from the Club. Presented by Ian Doggett the Club Chairman, who came along to the event especially to give this 'Recognition Award for Outstanding Team Achievement 2014/15 season. This award is for everyone who has helped the u16s, most of all the 'unsung heroes' who work to help & support, week in and week out, without expecting any credit, praise or reward but do it for the Girls!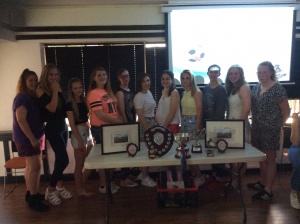 The team after collecting there medals !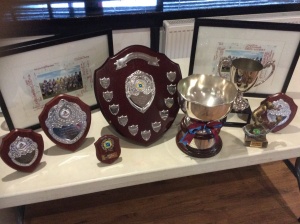 The Trophies from left to right: include Recognition shields for Outstanding Team Achievement from The Club! Pat & Steve. Futsal tournament shield, League Cup Winners Shield, Senior Girls Development Cup, the League Winners Trophy, the Regional Futsal Trophy, Backed up by 2 framed team photos presented by our 2 Captains Grace & Carrie to Manager Steve & Head Coach Pat.
Special Awards went to :
MOLLY  – TOP GOAL SCORER (26)
MADISON – MOST IMPROVED
MILLIE – PLAYERS PLAYER & SUPPORTERS PLAYER
CARRIE – MANAGERS PLAYER ( picked by Steve Chown)
Well done , not just to the above but all the players who made it possible!! So I mean all the 18 who started the season. (14 out of 18 actually scored goals !!)
Monday 29 June – Reminder!  WOBURN LIONESSES PRESENTATION EVENING Wednesday 1st June meet 7.45pm, starts sharp at 8pm the Pavilion, Woughton on the Green,MK6 3 EA. No training just celebrating! So don't be late to celebrate!! Dress smart casual, carriages for 9.30pm finish.
Monday 29 June –  What a weekend! Woburn Tournament, brilliant! Great team performances From our u16 team all afternoon and should have been in the final but a dodgy desision meant going out at the Semi-finals.  Well done to Steve ,Elton, Lauren,Emily,Maddie,Charlie, Jemma Chloe R, Rosie.
FA National Futsal Tournament, an eye opener ! But great experience for all who had to deal with rash challenges, Red card, written complaints, written appeals, back to back half hour games, girls who swear at you! And to top it all the Countdown music from the TV programme! But hey all in a weekends work for  u16 Lionesses Carrie, Grace, Molly,Alice,Leanne, Georgie, Micky,Millie.
Many thanks to all the parents and supporters who gave some of there time to do a shift and help at our Tournament . It all happens again next weekend with the Lions , so if you missed out you can still help then!
Wednesday 24 June –  Good luck to all the squad this weekend as we have one team in the Woburn Tournament u16s  & a team in the National Futsal tournament u16s in Birmingham both this Sunday 28th June. Details have been emailed & text out to all tonight after training.
Sunday 21 June – A great display at the Kidlington Youth Tournament by the Lionesses! Got to the Finals v Oxford City , 0-0 at the end of 10mins, narrowly beaten on penalties 4-3!!  Our girls showed real strength of character especially in the Semi's as we went 1up, then 2-1 down with 2mins to go and coming back to 2-2, before winning on penalties 7-6 against a second very strong Oxford City u16 team who  played this season at u18 level. Again all round performances to be proud of.
Friday 19 June – It's not gossip anymore it's true! The New Kit Sponsor for the U18s for 2015/16 has been officially announced to media by the Club as AM CHIMNEYS LTD from Milton Keynes. The Club are very pleased and proud to be associated with such a prestigious company we look forward to having a long and successful relationship. The Owners of the company have been quoted in saying " A Quality local Club like Woburn & Wavendon FC U18 Lionesses deserves a Quality local Company like AM CHIMNEYS " who produce Distinctive Fireplaces and much more, Team management are said to be " over the moon with the new deal!"
Thursday 18 June – Good training session last night ahead of are Tournament at Kidlington on Sunday 21st email & text have been sent out to all.
Tuesday 16 June – League meeting confirms u18 Beds & Herts League set to start Sept. 12th with 6 teams.  AFC Kempston, Garston Ladies, Leighton United Vixens,  EB Lions, Toddington and WWFC Lionesses!  Already looking forward to it!! Our new plan will start unfolding on Weds.8th July at training. We then have 9 weeks to prepare for the new season which will include friendlies.
Sunday 14 June – All the current squad have had 'signing on' forms handed to them or there representative sent to get them. We are hoping all the current 17 Girls will complete them and return them to Steve by the latest Weds.24th June. We will be looking for a squad of no more than 18 for the 2015/16  u18 season.
Saturday 13 June – Squads to be named for the Tournaments, first up is Sun.21st June Kidlington 6 A side playing at ox5 1up, parking at ox2 8HA shuttle bus will take all supporters to playing area. Full detail in the next email.
Sunday 7 June – Reminder training Wednesday 10th at WGS 6.30-8.15pm All available fit players required for Tournament training!
Thursday 4 June – Have a look at this!  http://www.bedfordshirefa.com/news/2015/jun/woburn-and-wavendon-lionesses-victorious
Wednesday 3 June – DONT FORGET ! it's Fathers Day on the 21st June, only 18 days or  2 wednesday training sessions !
Wednesday 3 June – REMINDER , it's the 3 "R"s tonight REVISE, RECOVER, RELAX! that's the message from the Coaching team. NO TRAINING TONIGHT!! Back to Tournament training next week 10th June 6.30pm- 8.10pm at WGS ready for the KIDLINGTON Tourn on the 21st June, Details soon.
Sunday 31 May – "The MAGNIFICENT 7"  they only went & won it!!   U16 Futsal team travelled to Barking with 7 in the squad, to represent BEDFORDSHIRE FA competing in the Regional Finals. Would you believe it! They now go forward representing the EAST REGION in the National Finals at Birmingham Futsal Arena. Well played!
Friday 29 May – 5 aside FUTSAL TEAM from 7 players : Leanne, Alice, Millie, Molly, Carrie, Michaela, Georgie.
Friday 29 May – FUTSAL REGION FINALS. Just a reminder of address for Sunday plus a few other details.Please aim to be there for 1pm. Any assistance with transport needed please let us know  ASAP. East Region Futsal Finals which will be held at Barking Sporthouse & Gym, Mayesbrook Park, Lodge Avenue, London RM8 2JR on Sunday 31st May.
Tuesday 26 May –  Great News! New kit from New sponsor for u16 going to u18s next season looks likely! Full details as they are confirmed.
Saturday 23 May – Thanks to Mark, Steve, Nigel & Guy who all got up early this morning to work on our pitch at Aspley Guise. This is what you call commitment. Many thanks for helping to keep the pitch in top condition for all who play up there.                                                                                                 
Friday 22 May – All the votes for our Presentation Awards should now be in! & are being checked & verified , Awards include Players Player, Supporters Player, Most Improved, Managers Player, Top Goal Scorer.
Thursday 21 May – It may be half term next week but the u16s have a extra training session at the Power League, pitch 12, 6.30pm- 8.00pm on Weds. 27th May. All available players to attend please.
Tuesday 19 May –  Our training never stops!! Training as usual this Wednesday 6.30pm-8.15pm Wavendon Gate School, we switch to Tournament mode training from now on!
East Region Futsal Finals will be held at Barking Sporthouse & Gym, Mayesbrook Park, Lodge Ave, London RM8 2JR on Sunday 31st May. Our Futsal squad has been agreed all players notified. We need to be there at 1pm,this means leaving at about 11am as its at least 90 mins journey, KO at 2pm finish at 4.30pm.
Monday 18 May –  WW-FC Lions & Lionesses meeting tonight at the Village Hall, Crawley road. Lots of important issues discussed! One very interesting fact mentioned about the ww-fc.co.uk website & in particular the fact that the u16 Lionesses pages are the most used, 600 views per month. So thanks to all the Players,Parents, Grand parents, friends, brothers, sisters, supporters etc. etc. who have made our site the most popular.
Sunday 17 May – Great to see the Girls Celebrating together at the Managers new house, after a special season that we have just finished! Brilliant afternoon with the Parents & Players together !
Friday 15 May –  Reminder that Girls & parents are invited to the u16s 'End of Season' celebrations this Sunday lunch from 12.30pm at 'the Managers new gaff' 12 Hayman Rise, Grange Farm, MK8 0ND – food provided just bring a bottle! Hope to see you all there Sunday !
Friday 15 May –  Tounament Season starts soon! Futsal Nationals Sun. 31st May,  Kidlington Tournament Sun. 21st June, Woburn Tournament 27th & 28th June 2015 ! Full details soon.
Monday 11 May –  Now is the time to celebrate! I will admit that now ' we have done something'!!!!! Proud of everyone !!! From the Coaching team Steve,Pat,Ross,Alan. Not forgetting everyone who has helped get us to where we are. Plus thanks to Robin our oldest and best supporter ( I think? ) and our biggest critic!! Robin tells it how it is!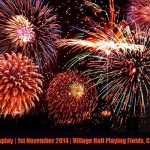 Sunday 10 May –  You did it! History made, well done to all associated to the u16 squad. What a season! what a last couple of weeks! If anyone had said to me last August that we would win the League ,Win the SGD  Cup, Win the League Cup, Plus the Futsal Cup in one season I would have said ' your mad ' 4 trophies ,  unbelievable!!  Final Match report Monday night.
Thursday 7 May –  Training on Wednesday night went very well, it was great preparation for the game on Sunday. Details have been sent out and we look forward to having a good day!! All support very welcome at MK42 8SZ.
Saturday 2 May –  Well done to EB Lions for such a hard fought , spirited game. It may have been their last game but they made sure that it would not be forgotten. We did not like playing 9 v 9, they seemed too! Even 10 v 10 we seemed to have so much space but no one to past to. But as Mourinho says 'you have got to know how to win in different ways' Today we won but it was not a performance to remember, you have to give credit to EB because they gave us nothing, when all we wanted to do was to relax and enjoy a nice morning without putting in to much effort. Just goes to show you can take nothing for granted, and anything can happen! We now move on to the toughest encounter of the year, Sunday May 10th so clear your heads and focus your minds because it's going to be one hell of a ride!!
Wednesday 29th April –  Congratulations! Lionesses win 3 points tonight against a strong Flitwick team to win the League title!! Well done to all who have been involved this season. Still one game to play in the league on Saturday against EB Lions, before we have to take on the mighty Garston Ladies best footballing team in the league, in our biggest game of the season!!
Saturday 25 –  A taste of disappointment ! A small set back! A bad day at the office! The better team won on the day! All these things spring to mind, it's what we do next that matters? Character building comes to mind! Can we show the right attitude? Can we show our true team spirit ?  It's all to play for!  No time for crying in our beer!  Onwards and upwards that's what we say. Wednesday night is game night no time to train, details by text & email later.
Sunday 19 April – 2-0 Win in Cup Final. SO PROUD! Well done to the whole Squad, Manager, Coaches & supporters!!!! Enjoy the next few days, raise a glass for me & see you all very soon.
Saturday 18 April – rest & early night! All our focus is now only on Sunday's game, nothing else is important . Prepare mentally for the hardest game so far, we go into this game positively and ask as usual for everyone to pull together as a team and to give 100% percent to the task in hand. 80 mins of grit, determination, sweat, with a never give up attitude , & the will to want to win !
Monday 13 April  –  3 points we wanted , 3 points we got !! Job done , well done , case closed. Move on, we now focus firmly on the Kempston game on Sunday 19th April.  Proper preparation at training weds. And our heads clear for the latest test of our teams character & determination to suceed. Now is the time to pull together even more than ever, which we can do. Keep going one game at a time!!
Friday 10 April – Once again we focus our minds only on Saturdays game we must only think about the things we must do to win the first half then the second half! We must play like we are playing against  the top teams, do not assume anything, work hard for each other and together we will start to taste victory!
Wednesday 1 April –  Well done ! Great result on Saturday , light training tonight. Then we prepare for the next important game to focus on v Toddington on 11th. 3 points will be the only priority ! Hopefully we will have all the squad fit and raring to play by then.
Friday 27 March – forget everything about last week only concentrate on your individual jobs to do tomorrow , this is the Cup final on Saturday 28th 10.30 at Kempston nothing else matters! Focus on one game at a time and you will come out on top! Give them nothing. Remember how bad we all felt when they beat us in that previous final 6-2, we must have our day!! You will win, not for me but for each and everyone of you! Good luck, my thoughts are with you all.
Saturday 21 March – FUTSAL TOURNAMENT WINNERS & RUNNERS UP! Fantastic result for both teams who played some brilliant football this morning at Stopsley. Well played to all who took part & thanks also to the parents and supporters who had to get up extra early to KO at 9.00am! Result!!
Friday 20 March – enjoy & relax at the FUTSAL Tournament. Go for the experience, play football how it is meant to be played on the floor, pass in triangles of 3. We are not expected to win, so don't worry! Please look after yourselves, do your best but do not get injured especially when you play each other ! Don't forget it's not boots its trainers!!
Saturday 14 March – On the Road again, a large crowd gathered at LEIGHTON to watch the eagerly awaited away encounter with the Vixens, and they were not disappointed . It was a very entertaining game which ended in 3points to the Lionesses. Well played girls full report later !
Wednesday 11 March –  The Lionesses were in high spirits as they took to the training session on Weds night, looking forward to a tough encounter away to the Vixens on Saturday.
Saturday 7 March – LUTON Qtr final away, great start tough game against a strong home team fresh from winning the last 5 games. Half time 1-1 . Gritty second period with wind and sun in Lionesses favour ended up 1-3 to Woburn . Good solid performance which gets us to the League Cup Semi final. We now concentrate on our next league 3 pointer. Almost forgot a spectacular goal from CHARLIE in goal today! Long & high bouncing over the Stranded keeper! Full report later.
Saturday 28 Feb  –  Well played Girls! It may not have been a vintage performance but when you have a 'keen to play' squad like ours made up of 15 good players and the opposition only have 10 it makes it very hard to keep all our 5 non starters happy! But we can only try and beat the team stood in our way of getting to a final , and so I for one am very pleased for everyone connected to the u16s. As I keep stating it needs the whole squads focus and efforts to win anything at this level. From now on we have to play every game as if it's a Cup Final! & I know we will. Lionesses 5 EB Lions 0. Thanks to EB for a good competitive game this morning at ASPLEY guise , home of the 'Bacon roll'.
Wednesday 25 Feb  –  More photo's have gone into the 'image gallery' on our website.
Sunday 22 Feb.  – FUTSAL TOURNAMENT on the 21st March takes priority over LUTON league game. More details under events section on website.
Saturday 21 Feb. –  Good result for the Lionesses this morning, a slow complacent start but a small shock to the system jolted us into action! The girls know what I mean by that. Recovered very well and played some good smart, on the floor football. Full report later. 3 points is the important thing! Great to see Madison even though on crutches, hope you are back playing soon Madison.
Friday 20 Feb. –  All our thoughts go out to Madison, who has had a accident whilst on holiday skiing. The good news is that she will be fine after having a fall. We hope for a speedy recovery & return to the team.
Thursday 19 Feb. –  A good day for 4 of our squad who were involved in the Bedfordshire FA Player Development fixtures at Creasey Park, Dunstable. Teams included were Suffolk, North London, South London, Northampton, Berks & Bucks, MK Dons and Arsenal. Well done to Charlie & Carrie who played for Beds FA PDC, Millie who represented Northampton FA and Chloe A who was one of the referees and lines person.
Tuesday 17 Feb. –  Looking forward to a focused, full on training session Wednesday night to prepare for our next league game against Flitwick
Saturday 14 Feb. –  A special day!!  Not only Valentines Day, but because we actually had a game to play! To top it all we got 3 points. Well done to all the squad, especially good for Jemma, Zoe and Alice all back from the treatment room.
Thursday 12 Feb – Game on Saturday is now a league game from 11/4/15 against EB Lions at home 10.30ko as Toddington can not play a game.
Monday 9 Feb. –  Good news from the treatment room , ALICE , JEMMA & ZOE all looking to return on Saturday, if all goes well at training Weds.
Sunday 8 Feb. –  Another quiet weekend of Football in our league! We must all now focus all our efforts on all training hard,working together as one & enjoying our training session Weds. night ready to do battle with Toddington at Aspley Guise on Saturday 14th.
Friday 6 Feb.  – Frustrated  is not the word!! Our fixtures team have been working 24hrs a day to try and get us a game without success! So we are all frustrated because we desperately wanted a proper game against somebody! See you all at ASPLEY G. For training 10-11.30am this Saturday .
Thursday 5 Feb.  – ENGLAND v USA Tickets.  Tickets have arrived for Leanne, Jemma, Carrie, Nigel, Chloe A. Tickets have worked out at £2 each so could you let us have the money this Saturday if possible. Thanks Steve C.
Sunday 1 Feb. –  Our Luton away game SATURDAY 7th changed by the League as Luton v Vixens League Cup game takes priority! We will look to bring forward another league game or get a friendly.
Saturday 31 Jan. – No game but trained in the snow at ASPLEY Guise! Good tough session ( just ask MILLIE or MOLLY ) well done to all who made themselves available and thanks to the support team Nigel, Steve, Neil.
Tuesday 27 Jan.  –  Reminder that if you have a Black sweatshirt & Black rain jacket you should wear it on Match days Home or away, the new w&w FC  maroon hoody should only be worn at training. This will help to make us look even more professional.
Sunday 25 Jan –  IMPORTANT MESSAGE to all Squad, Looking ahead at the fixtures coming up! The way we are going we will have a Match every week now until at least the end of April!! Hopefully not Easter Saturday . So please if you know you are going away over the next 12 weeks let Steve know ASAP!! Thanks
Saturday 24 Jan – Match Day!  A cold slow start but a good solid performance to get a result on the road at Langford. Well done to all the squad. Please bear in mind it's not about who scores but that the team get the desired result! Full report later on the results page from our top match reporter Steve Ayre. ( Good news ALICE was not seriously hurt & will be back very soon).
Friday 23 Jan –  As Mourinho would say 'the most important competition we are in, is the game on Saturday ' same goes for us, so that means LANGFORD Youth on Saturday!! We all must only look forward to the next game, do not allow yourselves to look any further!! This is the message from all the management team. Discipline, work rate , focus, togetherness is what is required for the business end of the season.
Thursday 22 Jan – England v USA Ladies at Stadium MK, 8pm on Friday 13th Feb. Tickets available at concession Club prices. It would be nice to get the whole squad to go along , it will be well worth it at aprox. £2 each or less depending on final numbers.  Contact Steve C  All players & Parents welcome to join us!
Wednesday 21 Jan. 1.10pm – No rain or snow forecast ahead of tonight's training session in prep for Saturday away to LANGFORD .
Tuesday 20 Jan. 11.45am – Reminder that the First Aid training course takes place tonight at The Village Hall, CRAWLEY Road, Woburn 6.30pm-9.30pm ( bring a Yoga mat if you have one! ) all will be revealed later.
Monday 19 Jan.   2.30pm – Great news from the Treatment room – JEMMA working hard to get back to full fitness and joining training every week now!
Monday 19 Jan.    2pm –  U16s League Cup draw on League Website! – We have a Bye in the 1st round but will play the winners of LUTON v VIXENS. Date to be confirmed.
Saturday 17 Jan. –  Good training session today!
Despite the cold conditions and after expecting a friendly, which unfortunately did not happen, 14 players attended the training session to show our team's commitment. Good to get a run out ready for next weeks away game at Langford!
---
England Ladies v USA at Stadium MK, Friday 13 February 2015
Please let Steve Chown know if you would like tickets.
---
PDC Success!!
Congratulations to 4 of our squad, for attending trials and successfully gaining places at local PDCs (Player Development Centre).
Millie has been invited to play with Northampton PDC U15s.
Carrie, Rosie & Charlie have places with the Bedfordshire PDC. Carrie with the U15s, Rosie and Charlie with U18s.
Well done to you all!!
---
Trip to Wembley!
On one of those really horrible grey rainy days, and with some disruption to public transport, over 80 Lionesses and family, including 25 from the U16's or " claret and blue army", made their way to Wembley to watch England v Germany.
---