Lions – U14 Whirlwinds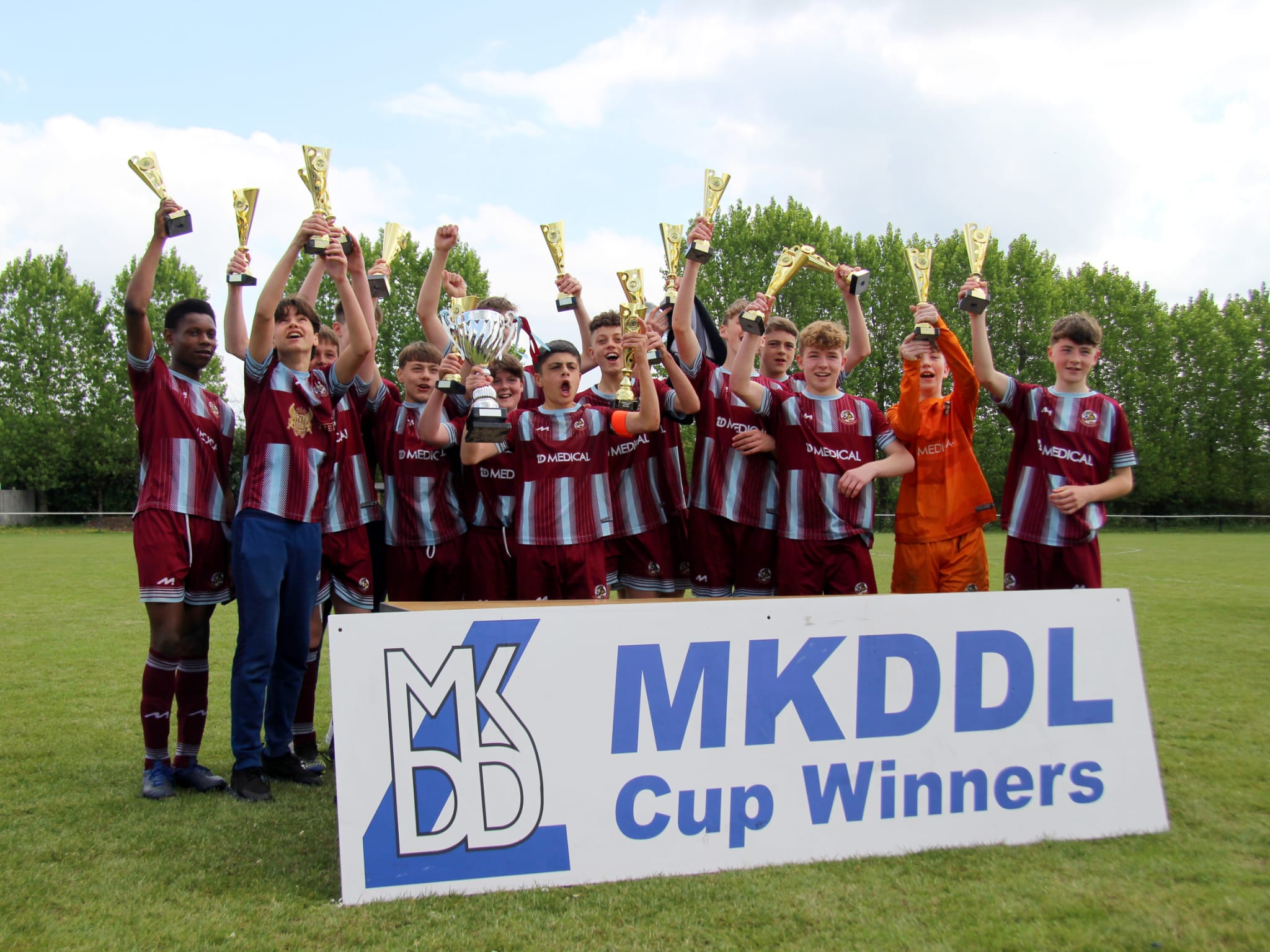 ---
Manager: Scott Russon (FA Licensed Coach – FA Level 1 and FA Youth Award Level 1) | 07816050256 | E-mail Scott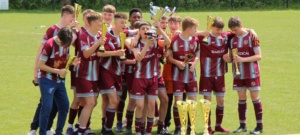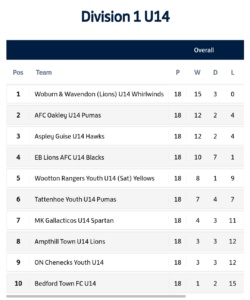 Our U14s Whirlwinds side had a fantastic 2021-2022 season, winning the MKDDL Division 1 by 10pts and were undefeated all season. We also won the MKDDL League Cup and were knocked out of Bedfordshire FA County Cup on penalties in the semi final. As importantly, the boys had great fun on social occasions, such as go-karting, bowling, Nandos visit, and a trip to watch Top Gun: Maverick (parents too but made to sit elsewhere by the boys!). We're looking forward to the U15 season, with a renewed emphasis playing good football and developing the team spirit.
Playing opportunities 
The team will have a small number of positions vacant for the U15 season (2022-2023). Please email Scott (manager since U7s) if interested…
Social stuff and tournaments
Top Gun: Maverick (June 2022)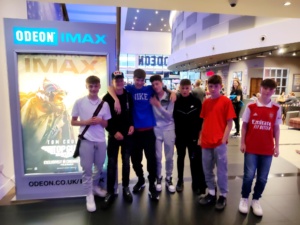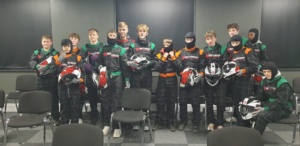 Go-karting (December 2021)
Bowling
Laser tag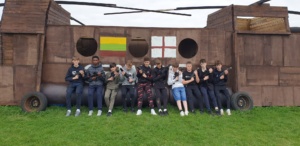 Paintballing team trip (February 2020)
In what turned out to be the last game of a season that was drawn to an early close by Covid, the team headed out on a team trip at a  paint-balling.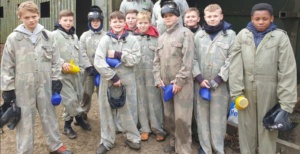 Xmas team trip (December 2019)
This year's team trip involved the boys trying their hand at rock climbing. Afterwards, the boys headed to sponsor McDonalds for some refreshments.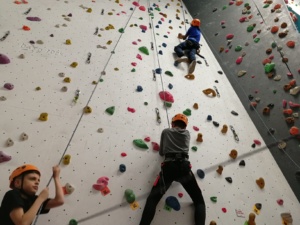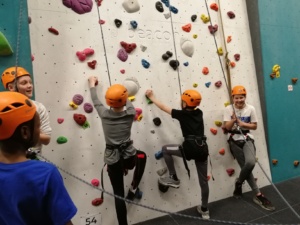 Flitwick pre-season tournament (August 2019)
Aquaparc, Willen Lake (July 2019) 
To keep the team in touch during the close season, we organised a trip to inflatable water activity (aquaparc) at Willen Lake and then McDonald's afterwards.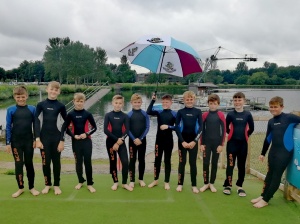 June and July (tournaments) 2019
Five tournaments entered, with at least a semi-final appearance in each of them was a great achievement.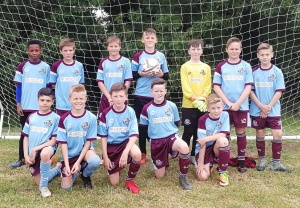 March 2019
Following our final league game of the U11 season, the team enjoyed a celebratory trip to McDonalds.
Christmas party (December 2018) 
Indoor glow football. A neon extravaganza.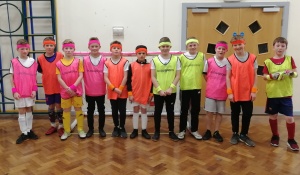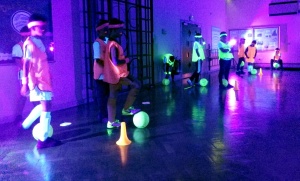 November 2018
A surprise team trip after our final match to be played in November, saw no time for a team talk as we instead dashed of to one of our sponsors' locations for lunch. The result was 12 very happy, slightly confused but definitely excited boys. Many thanks to the team at McDonalds Kingston looking after us so well during the peak lunchtime rush.
TopJump (October 2018) 
A team and siblings trip to trampoline park TopJump was a great way for the boys to have some fun time that didn't involve football. Photo is from the end of the session — they were happier than they looked!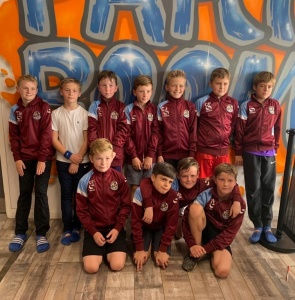 Cinema trip (June 2018) 
A trip to the cinema to see the latest Avengers movie was on the menu for the boys. And, as ever, those that couldn't make it were missed.
"Unity is strength. When there is teamwork and collaboration, wonderful things can be achieved."
Christmas party 2017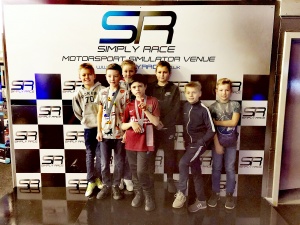 The fourth Christmas party in the team's lifetime was a hi-tech digital motor-car racing event at Simply Race.
Trampoline park (October 2017)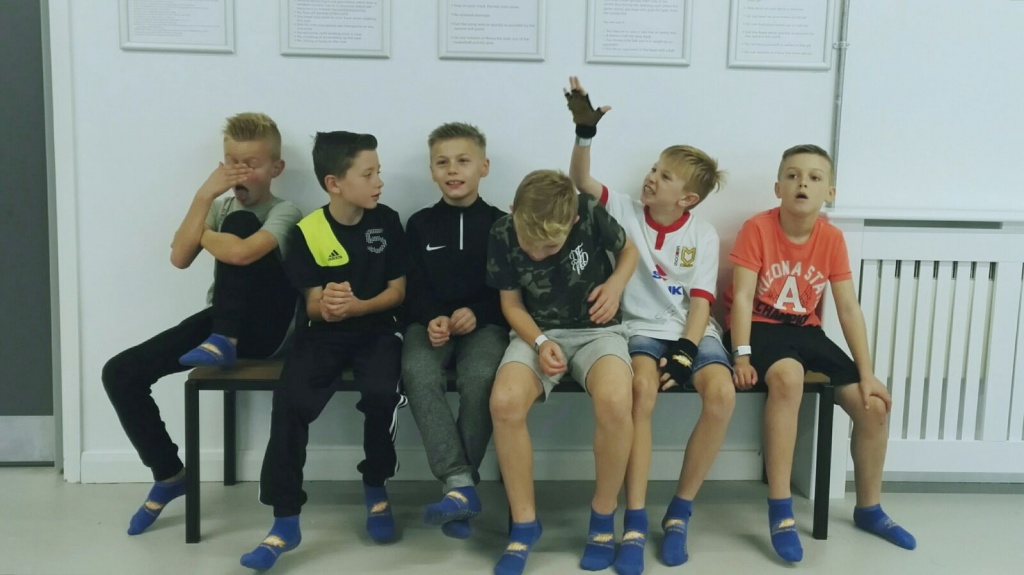 Also joining the boys were several coffee-drinking parents, 3 slushie-drinking younger sisters, one elder sister and one teething young brother. A great day had by all.
Sky Sports player profile poses — Sept 2017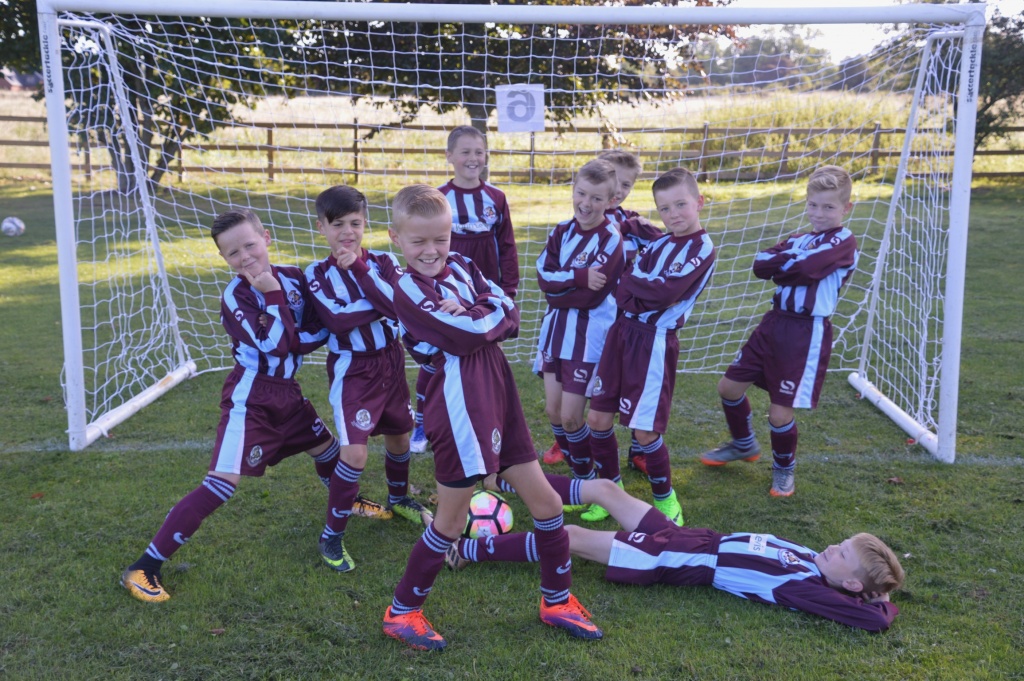 Any photo update for the main team photo always results in a request from the boys to have a now obligatory silly ones. On the first day of the U10 season, the goofiness was inspired by Sky Sports Premier League player profiles.
Team presentation day (July 2017) 
After a long, hot day at the Willen World Cup the day before, the squad reconvened for an end of U9 season picnic. A great season, with the team also winning the league's Respect Award.
Bowling and pizza — March 2017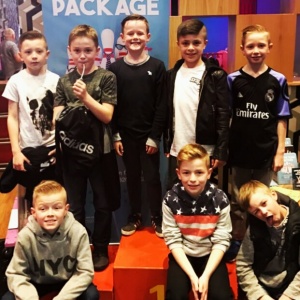 Frozen pitches across MK (January 2017) 
A trip to the PowerLeague for a training session. And a bonus point if you can find the 7th squad member in the photo below…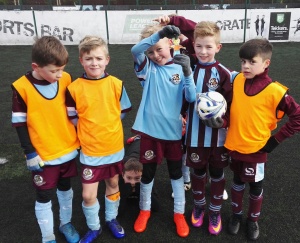 Flitwick Eagles pre-season tournament (September 2016) 
The youngsters won Saturday's tournament winning all six games, scoring 23 and conceding no goals.
First training session of the U9 season (August 2016) 
To set the tone for the season we began with an exercise to look at 'what it means to be a good team', with the results below. Some big words, phrases and concepts from such smart little men.
Start of the U9 season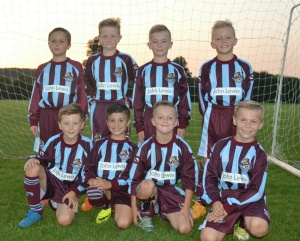 Shefford summer tournament 2016
Our final tournament of the U8 season.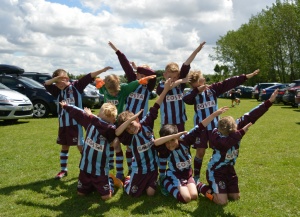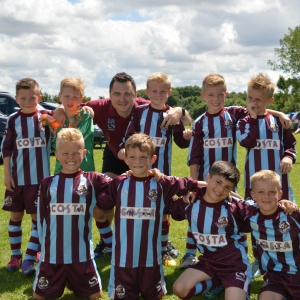 Woburn & Wavendon FC tournament 2016
Our first competitive tournament experience.
City Colts summer tournament 2016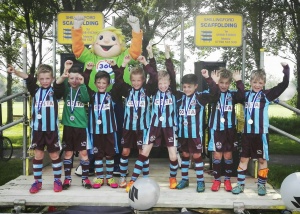 Christmas party — December 2015 
A trip to MK Spy Centre saw the Whirlwinds U8s pitched against each other as the self-billed team Rudolph and team Coders, with the red-nosers victorious.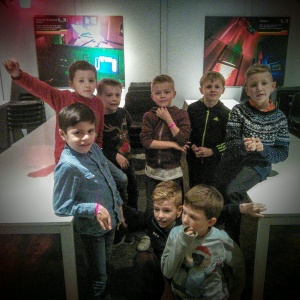 Start of the U8 season — September 2015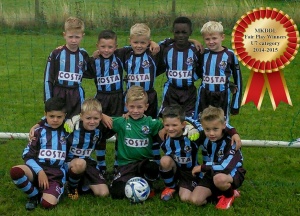 Team presentation day (July 2015) 
A picnic in glorious sunshine at Willen Lake marked the end of a jam-packed, fun-packed inaugural season.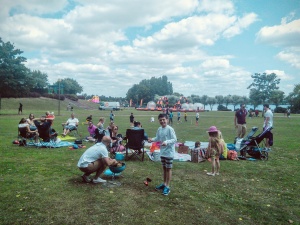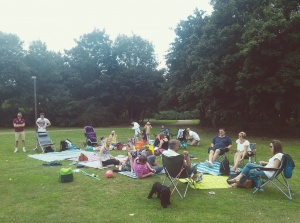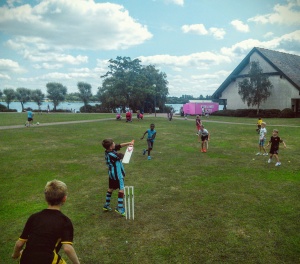 Woburn & Wavendon FC tournament (July 2015)
Our first Club tournament and what a brilliant day — spectacularly well organised and massive fun.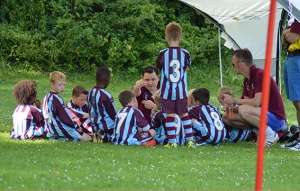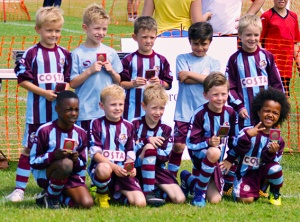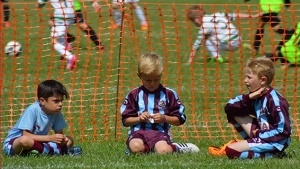 Family Fun Day at MK Dons (March 2015) 
Team day out as the MK Dons beat Notts County 4-1.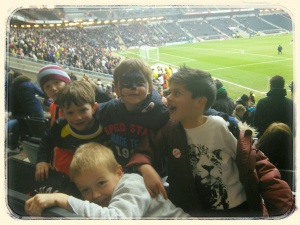 A very friendly 'friendly' – mixed friendly with City Colts (February 2015)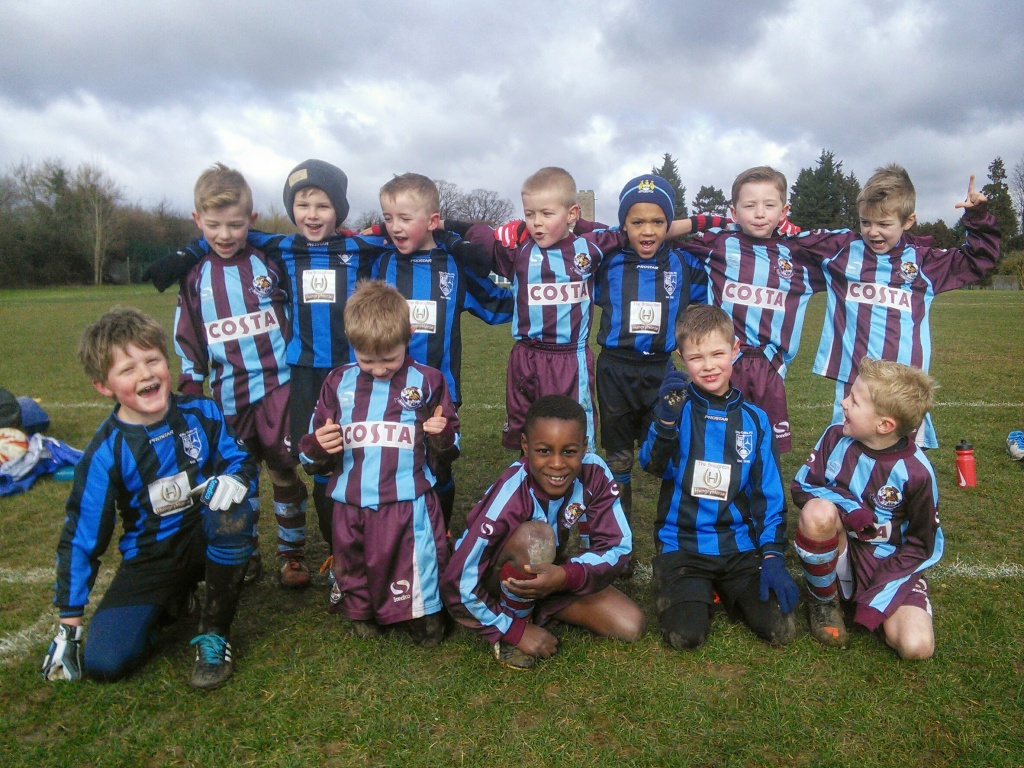 For more, see the Club news story here 
Christmas party 2014
U7 season (November 2014)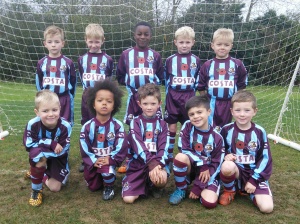 Luton Tournament (October 2014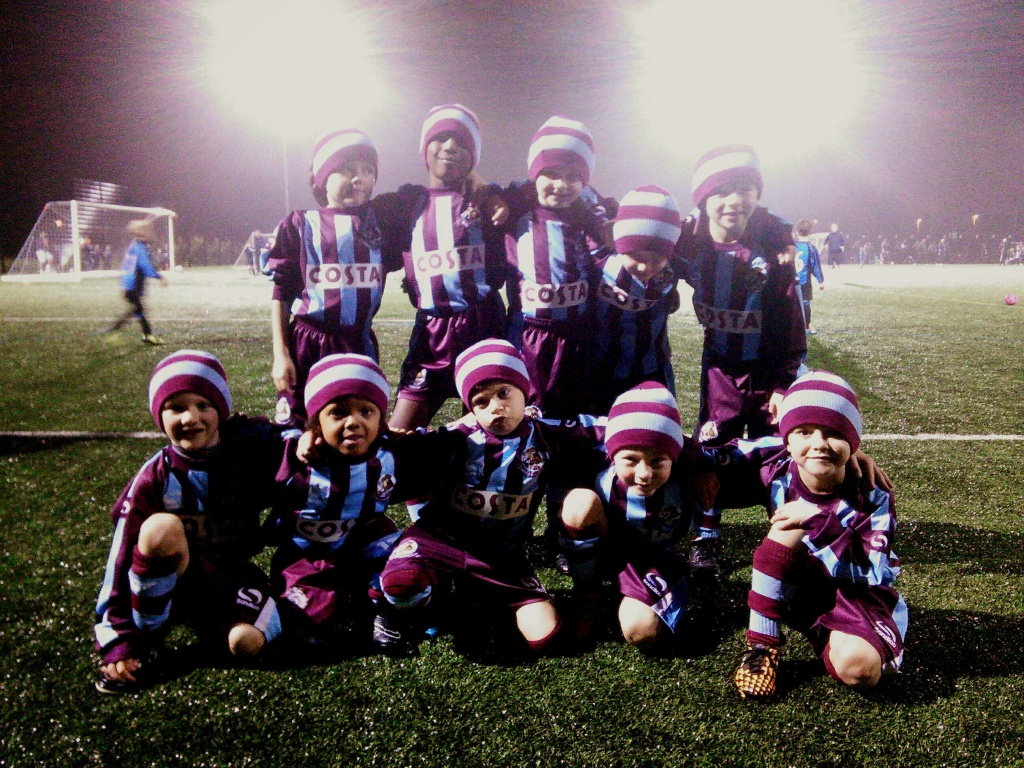 )
Start of the U7 season (September 2014)