Home
Welcome To Woburn & Wavendon Football Club
Fun, Football and Friendship!
Woburn & Wavendon Football Club (formerly Woburn Lions and Woburn Lionesses) was re-named in 2014. Founded in 1976, the Football Club is one of the oldest and largest in the area. The stats speak for themselves:-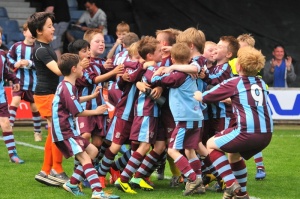 Over 580 boys and girls of all abilities playing for approaching 45 teams (5 years of age through to adult as well as "Goalability" pan-disability sessions).
Watched and supported by around 1,000 parents.
Along with family and friends, a regular audience of some 7,000 adults living mainly in South East Milton Keynes and West Bedfordshire.
Non profit-making and 100% volunteer run, Woburn & Wavendon F.C. is a 3-star England Football Accredited Club. Our accredited is the highest that can be awarded means the club is among the country's best; proven to be well run, sustainable and places child protection, quality coaching and safety as paramount. A true testimony to our success is that new generations of many former players keep coming back to join our teams.
Indeed, you can be assured that the Club is also hugely respected within the football world too. "WWFC is without doubt a shining example for grassroots football clubs everywhere" – Luke Harman, FA Partnerships Manager.
Most of all, The Lions & Lionesses are ALL ABOUT HAVING FUN. We aim to help all our players develop their full footballing potential, make friends and enjoy loads of smiles along the way. So whether you're a player, coach, volunteer, relative or sponsor, we hope you like what the website has to show you, but more importantly are stimulated to "get involved and join in with all the fun"!