2019/20
 COOPS, KELLY, HEATHER, JADE, GEORGIA, NIKITA,CHARLOTTE, LAURA T, AMELIA, ZOE, GISELLE, LUCY, OLIVIA, KODI, EMMA, JESS G, HOLLY, LEAH, SIMPS, KIM, EMILY, JESS K, FORDY.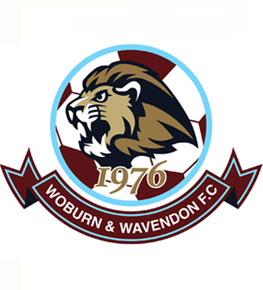 Manager & Coach:    Pat Mancini T.07775 039262 Email – patmancini2004@yahoo.co.uk
Assistant Manager & Head Coach (UEFA B):  Jeremy Hall T.07446 770193 Email – jez29my@gmail.com
Team Admin Manager :  Pat, Charlotte.
Coaching Team: Jeremy, Pat, Liam.

Team Sponsor:  ASTRUM Construction.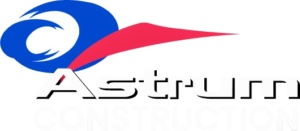 Bedfordshire and Hertfordshire Women's Football League Division 2  2019/20
We play SUNDAY afternoons at 2pm. We train on a Wednesday evening.
Home Ground is at Aspley Guise Common, West Hill, Aspley Guise, Woburn Sands, Milton Keynes, MK17 8DX.
WINTER TRAINING – from Weds 18th SEPT. 2019 at POWERLEAGUE, FYFIELD BARROW, MK7 7WH. Meet 7.55pm  train 8-9pm on Astro pitch 12.
SUNDAY 24th JUNE 2018 WW-FC  LIONESSES WIN .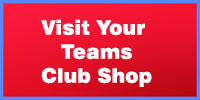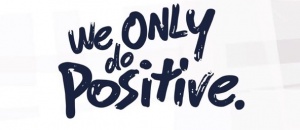 We should never forget the journey we have been on for the last 10 years (for some of us!) Respect to all who will no longer be continuing the journey.
Thanks for the memories, and to all who are stepping away from the Lionesses at this time, all the best in what every path you decide to take in the future, we could not have won 17 Trophies in 6 years without you.
LIONESSES  10 players , 2 coaches Billie Murphy (Arsenal top on!) & Nigel Woodman:
NEVER FORGET Your roots & HOW IT ALL STARTED!
Charlie, Jemma, Amy, Grace, Carrie, Karis to name but a few!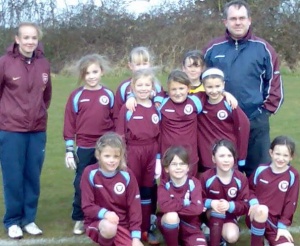 make sure you are ready to give the Coaches: EFFORT, ENERGY, ATTITUDE, PASSION, COMMITMENT, DESIRE TO DO YOUR BEST, & FINALLY EARS TO LISTEN WITH!   All the above has nothing to do with our talent and ability.
"It was great to be a part of Saturday's girls tournament and witness the spirit in which the football was played, the enjoyment the kids and the parents got from the day and how the event catered and encouraged football for all, not just for the talented few – the day really summed up what Community Football Days should be about and was a reflection of the tremendous hard work you and all of the volunteers at the club put in. Woburn & Wavendon FC is without doubt a shining example for grassroots football clubs everywhere."  Luke Harman – The F.A Partnerships Manager (Commercial Division)
#proudtobepartofthewoburnfamily! Well done to all who made it happen!
WW – FC LIONESSES LADIES BLUES MILTON KEYNES INSPIRATION AWARD WINNERS 2017 for 'INSPIRING LOCAL FOOTBALL TEAM' 10th June 2017 Jury's Inn MK. Well done to all connected to the team, including players, manager, coaches, parents, supporters & WW-FC .
Sun 25th June –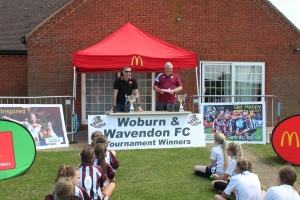 Sun 18th June – Presentation night at the Powerleague a great success!
Big thanks to the Team of staff at Powerleague for the use of the place.Special thanks went to Steve Chown & Family, Carrie, Terri.
Also remembering one of our longest and best supporter Robin Spring who we lost this year. Thank you Robin!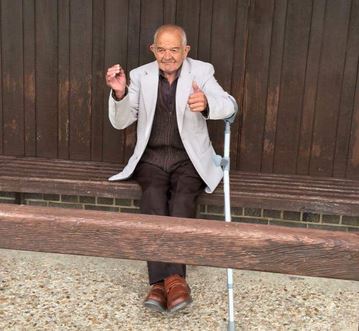 Weds.3rd May – Sad day for Woburn, as I went to the funeral along with hundreds of others to celebrate the life of Robin Spring our longest and most loyal supporter! A lovely man and true gentlemen ( unless you were the opposition) The service was special with some great stories of Robins life in Woburn . RIP Robin. Please say a prayer for all his friends & family.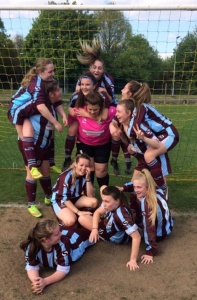 Fri.14th April – Ladies Lionesses Blues dedicate their League title to the memory of Robin Spring our most loyal supporter.
Funeral Wednesday 3 May.
10:30am Oak Chapel, Crownhill Cremetorium. Pat will be attending on behalf of the team.