U12 Whirlwinds & U12 Hurricanes @ the 2016 Willen World Cup
Congratulations to our U12 Hurricanes who won the Plate at the Willen Word Cup & our U12 Whirlwinds who finished runners up in the Cup competition.
Both teams lit up the competition with their football which turned out to be a day of domination for the U12 WWFC teams. Paired in the same group, The Hurricanes, just missed out on the Cup competition, but saved their best till last romping through the Quarter Final, Semi Final and sealing the deal with a convincing win over MK City Puma's in the final. The Whirlwinds, dominated their group with 6 wins and two draws finishing a whopping 5 points clear of the field, eased through their Quarter Final, came through a nervy 11-10 win on penalties in the semi final after a 1-1 draw, but just missed out in the final, in a repeat of last weeks WWFC Super Sixes Final against Tattenhoe Youth Tigers.
Well done to both teams, bizarrely in 2014 the same thing happened but in reverse with the Whirlwinds winning the Plate and the Hurricanes finishing runners up in the Cup, Willen is certainly a happy hunting ground for this age group.
Both Teams Celebrating Their Success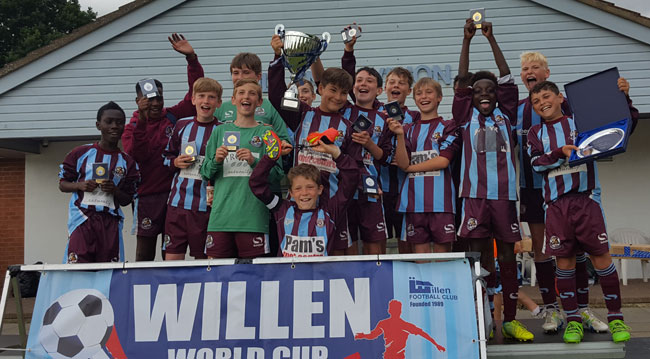 U12 Hurricanes Lifting The Plate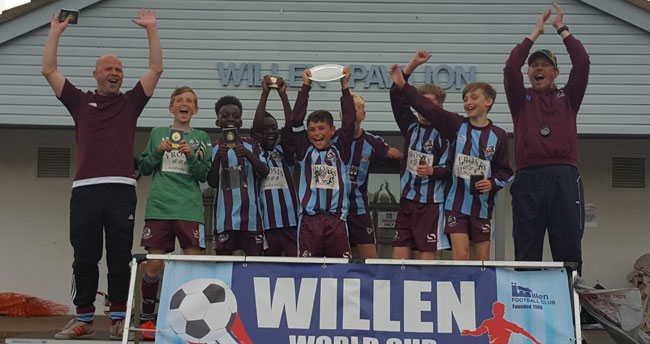 U12 Whirliwnds Cup Runners Up